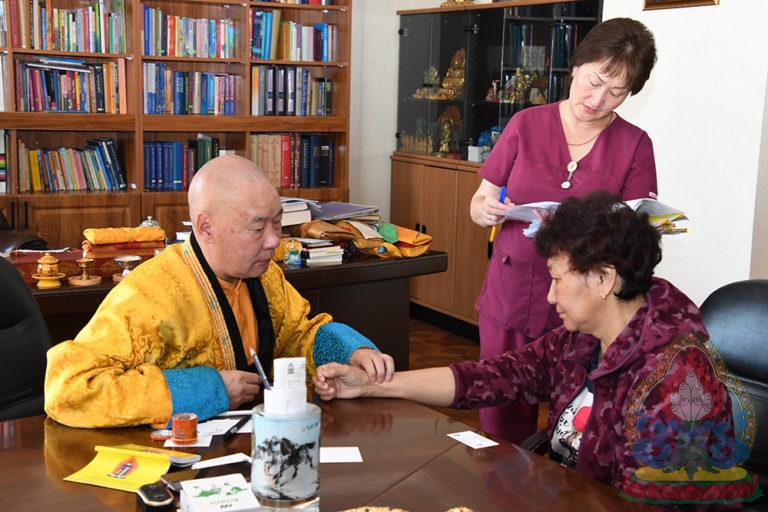 Potapova Ekaterina: Manba Datsan Hospital has the best quality that no other hospitals in the world has
Most Venerable Lama D.Natsagdorj, President of the Manba Datsan Mongolian Traditional Medical Center met six citizens, Ms. Pavlova Valentina, Ms. Potanova Tamara, Ms.Nikolaeva Marina, Ms.Potapova Ekaterina, Ms. Kardashevskaya Albina and Ms. Klimova Zoya from Yakut of Russia treated in the Manba Datsan Hospital. Feedback on the service of the Manba Datsan hospital was provided after the meeting.

-How did you get the information about the Manba Datsan Hospital? How did you get its service?
-Ms.Nikolaeva Marina (Operator of the Gazfrom Gas Factory): Last year, two people from our country were treated in this hospital. One of them was my older sister. My sister could not stand up on her feet due to the rheumatism. She hospitalized at the Manba Datsan and recovered quickly. Now, my sister is growing vegetables and running her business in our country.
Therefore, we as a team including 6 relatives and friends arrived here in Mongolia with this information from my sister. Majority of us came to this hospital due to common problem related to the rheumatism.
Pavlova Valentina (Former economist of Saha's Tax Administration): I got more information from the Internet. I had offers from six hospitals in Mongolia, but I have chosen the Manba Datsan Hospital. The reason why I preferred this hospital is that its laboratory testing method is combined with European testing, blood and urine tests are taken with traditional pulse diagnosis. It seemed to me unique. I liked its combined testing methods.
-Have your pain or symptoms been recovered? Did you like its treatment method and results?
-Ms. Kardashevskaya Albina /Construction Engineer/: We live in cold climate which imbalance our wind humor causing common problems such as arthritis, stricture, arteriosclerosis, hearth disease, rheumatism, back and neck pain. We were hospitalized in Korea and China. Compare to the other country treatment, the Manba Datsan hospital has its unique and traditional feature of treatment. As a result, the treatment is so good. The pain of the above-mentioned symptoms reduced. I feel so refreshed and recovered now. Its treatment is really unique comparing to the other country treatment. Whole body massage treatment was different tailored to each patient's needs. I have learned many types of treatments with water and spring with the herbs. These unique things I learned from you here.
-One of features of the Mongolian traditional medical science is to help you to understand yourself. What did you explore about you with our treatment?
–In order to live healthy, we need to be conscious about our foods, drinks and actions. The actions are what kinds of clothes we need to wear during the winter, what kinds of foods we need to eat, how to behave etc. We were told by the doctor that the traditional medical science describes that 25% is for foods, 25% is for actions and 50% for heath resulted from them.
-Sometimes people don't care about their health and they became so inactive. They are lazy to run over to a hospital just next to them. However, you came across to Mongolia for the Manba Datsan Hospital. What's the main reason of your arrival at our hospital?
Potanova Tamara (She worked in Eye surgery unit of a local hospital): I worked as a European medical nurse for 43 years. I would like to note that its medicine is bad to our body. It includes antibiotics that can treat one organ, but can damage others. So that, I started to be interested in the traditional medicine since last year. It is quite interesting that we can make or boil our medicine with the herbs and take it in appropriate time. We also have had many treatments.
Klimova Zoya (Former Librarian at the University for 45 years): I have an allergy, so that European medicine does not work for me, but Mongolian traditional medicine and treatment suit me well.
-Are you satisfied with the service by staff of the hospital?
–Ms.Potapova Ekaterina /Lawyer of Tax Service in Yakut/: We were so lucky to be one of the patients of Dr. Amarjargal who is fluent in Russian. She is very responsible and hardworking. She describes all the things comprehensively for us.
Also, the doctors who gave massage for us are very hard working. We cannot find this service from any other countries because doctors in Manba Datsan hospital take care of their patients perfectly no matter how late it is.
We are very happy to see Most Venerable Lama D.Natsagdorj. It was a moment that we all waiter for. He is very smart, generous and pleasant person. He talked to all of us and even did our astrological reading. We are very grateful for it.
-Mongolians says: "There's some news to share when we go back home" As well as, is there anything you would like to say once you go back home?
Ms. Kardashevskaya Albina /Construction Engineer/: We take some notes about what treatments we are taking. Mongolian traditional medicine combines medicine and therapy. Out of 36-40 types of therapies, whole body massage is the only one of them. Moreover, there are head massage, acupuncture, moxibustion and cupping. It is nice that there are so many types medical tactics and choices. Even though there are seven billion people in the world, every person is inimitable depending on how old they are, where they were born, which diseases they have been taken. Function of whole-body massage is to balance wind humor channel, grow strength, improve immune system, and feel more energized, but you have to understand that it is only for Albina.
-Thank you for your time.