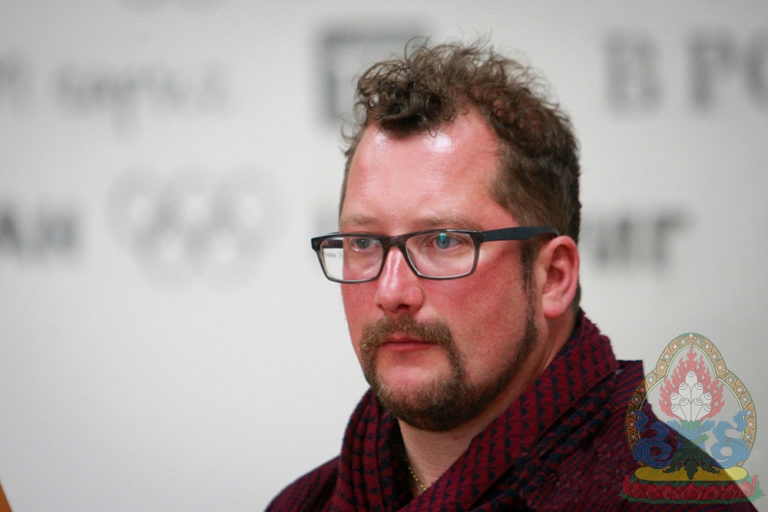 Benjamin Johns: The documentary about Khamba Lama is ready and is great!
A movie producer from England, massage therapist, professor Benjamin Johns, producer Konstantin Pavlidis, producer Gerry Vasbenter came to Mongolia last year to film documentary about Honored Medical Doctor, Khamba Lama Natsagdorj.D from Manba Datsan monastery. Benjamin Johns says that the documentary has been shortlisted at various festivals in United States and we talked to him while he was visiting Manba Datsan hospital. Benjamin Johns is well known for his works such as "Candy Bar Kid" which earned him awards in best short movie, "Traffic Warden" which won best short comedy from HD FEST festival.
–So what brings you back to Mongolia? Please tell us about the movie with Khamba Lama
-So the reason I've come back to Mongolia is to come here for some treatments at Manba Datsan hospital, but also to have some follow up discussions with Khamba Lama about the movie we made and we had a small private screening of the film and saw the finished film together, which was very special and important. That's why I came back.
–This documentary is one of the series movies, World Wisdom Keepers, and you must have met lot of wise/spiritual people. What impression did you get from Khamba Lama?
-Many many things to say. He is very wise man and he is definitely a keeper of his culture and wisdom. The work he does here is, in my view, is very special and remarkable. I've learnt a lot from him and this is just a start of a process.
–Did you have any knowledge about Buddhist teachings before the movie was shot? What was the most challenging part during the shooting?
-I had a small knowledge about Buddhism, since I visited a place called Borobudur in Indonesia, I believe is the biggest Buddhist temple in the world. I went there on a retreat with my colleague Konstantin and it was a great experience. Following that, I've attended some self healing practice in London. But not only really since meeting Khamba Lama have I started daily practice and he taught me many mantras including Medicine Buddha mantra. So that's really started meeting him the first time December last year. The most challenging part of the film probably was when we went to Zavkhan province, with the combination of the cold and the environment and we had a lot of kilometers to cover. We were basically in the hands of the experienced drivers that we had hired and also with Khamba Lama's powerful prayers. You know we could easily have had an incident like truck coming off the road. So that was the most challenging part and from the technical point of view, the most challenging part was horse wrangling in Zavkhan and the shoot of the Otgontenger mountain, we nearly couldn't get the shot with the drone. But in the end we did manage to get the shot we wanted and we were very fortunate.
-When will the movie be released in Mongolia officially?
–We don't have a release date in Mongolia but the film is being submitted to festivals around the world and we are hopeful of getting into some prestigious festivals soon. And then we are hopeful of screening in Mongolia later in the year and we will announce it as soon as we are able to. So the film will be coming out this year for sure in Mongolia and other countries around the world.
–Please introduce your crew that worked on the film to us.
-Sure, the crew that we had on the film included cinematographer Gerry Vasbenter, who worked on the films such as "Lord of the Rings", "Star Wars", "Gravity" and we had a great working relation. It was a small team in terms of the actual shooting here, but supported by lots of other people including Mongolian crew. Translator Tsetsegbadam, sound recordist Purev.O, Chadraabal.D, who was the camera assistant and a famous Mongolian composer named (I ll find out), who I was really pleased with and of course our drivers. Also a british editor edited the film and narrated by Ben Kingsley.
–Please tell us about your thoughts on traditional Mongolian medical treatments at Manba Datsan hospital.
-The treatments have been very good, some of them are quite intense and that's good. Some of them are quite profound but I think they are all doing lot of good. And obviously I can tell that the staff care lot about treating the patients and everyone is highly trained. I think the work here is fantastic. Khamba Lama Natsagdorj.D and doctor Odgerel were quite impressive. I've met lot of people who've been treated by Khamba Lama in Mongolia and also in UK.
–What was the most special thing about the treatments here
-I think it all link to the Medicine Buddha lineage which goes back to many years and its all sort of based on the proven theories. And I think it's also very special that everyday patients and the doctors do the mantras together.
–We heard that you started reciting mantras since meeting Khamba Lama.
-Yes, I also learnt about a special prayer that involves prostration, needed to be done 108 times a day. I will keep on doing the prayers when I get back home.
–Thank you for talking to us. We will see you again when the movie premieres in Mongolia.
-Of course, thank you.